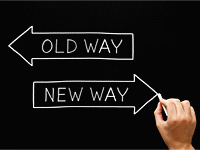 Why a leading design company prefers Springs & Things
In his capacity as an Implementation Expert and Technical Guru at Swave Studios (http://swavestudios.com), John Schmider has worked with a wide variety of domestic and foreign suppliers. Most, he says, leave him wishing for more, mainly because they are little more than order takers.
Then there is Springs & Things, a leader among custom spring designers and manufacturers in Canada. "They have a wealth of knowledge on the shop floor and they use that expertise to bring forward ideas that you don't get from lesser suppliers," says Mr. Schmider.
His most recent project for Springs & Things involved the design of a spring for a high performance bicycle brake, a rush project that had initially been handed to an Asian supplier at the direction of the client.  "It just didn't work out," he recalls. "They were focused on mass production, not product design and development."
Just the opposite was the case with Springs & Things. "They came up with helpful suggestions that allowed us to get to the prototype testing stage very quickly, which was important because we were working to a very tight deadline."
He was equally impressed when the project moved into the production phase. "We needed a lot of springs very fast and that's exactly what Springs & Things delivered. The performance was just spectacular."
If he has any regret, it is that he didn't come to Springs & Things first. "The sooner you come to them, the better because they can save you time and money by pointing out potential pitfalls." He also appreciates that the company's senior spring designer has the unique ability to increase a part's functionality by developing an innovative design or pushing the performance of a material beyond what is considered normal. "He's the 'Yoda' of spring design."
Mr. Schmider looks forward to working with Springs & Things again in the near future. "I always enjoy going there. They are so accommodating, patient and helpful. I always leave there with a smile on my face."